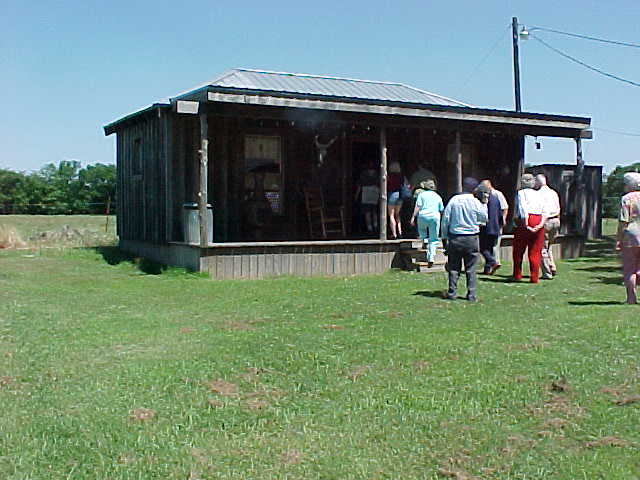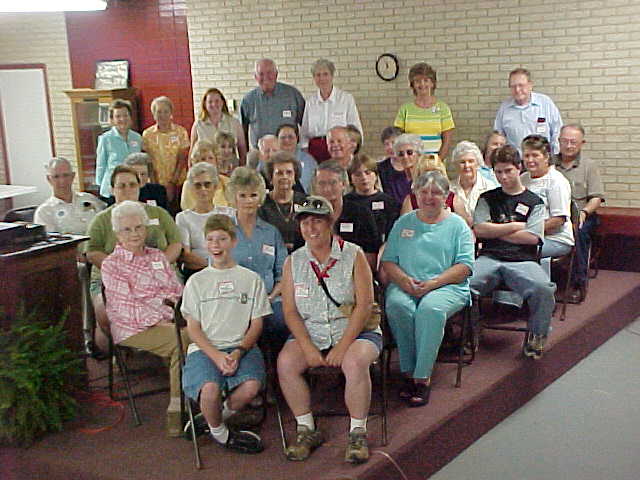 Minter descendants and their families from various geographical locations gathered at Pickton, Texas, on June 8th for a reunion. The weather was nice this year, not too hot, and everyone had a good time.

The Pickton Community Center where the reunion was held was nicely decorated, thanks to Mary Ann Pleasant and others. The lunch, with barbecue, was just right. Sam and Bob Minter showed some videos that they had filmed of previous reunions. Some of the attendess got up a gave little speeches about where they were from, their rememberances, and so on. Later in the afternoon everyone piled into their cars and drove over to Joe Bob Minter's place in Como. Joe Bob wasn't home, but the purpose of the trip was to see a replica of Judge Roy Bean's saloon and court that Joe Bob had built at the back of his house. It was fitting since Joe Bob was a former Judge. My view is that every man should have a little place like this to repair to.

The next day, Sunday, many of the Minter descendants from the reunion attended a memorial at the church in Pine Forest.

Afterwards, everyone, citizens of the community as well, went to Pine Forest's Community Center for a potluck luncheon. The tables were graced with every kind of food. To those from more northern climates, the fresh tomatoes and green beans were mighty welcome.

It would be nice if every Minter descendant could make the trip to the reunion, which is held every two odd numbered years.

Perhaps at the next reunion, if the resources can be marshalled, everyone could board a bus for a little historical tour around Pine Forest and the immediate area. TJM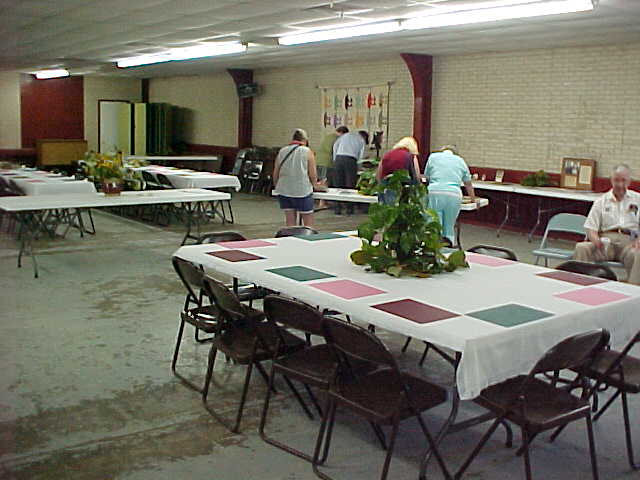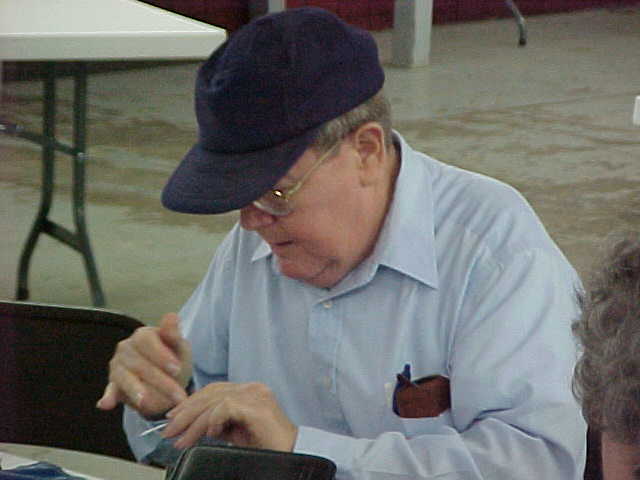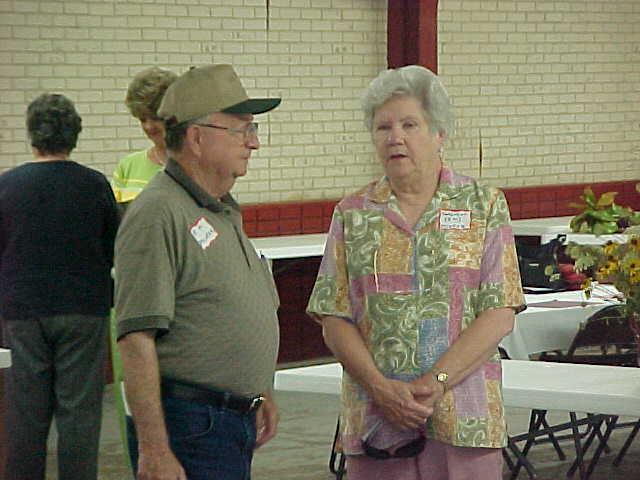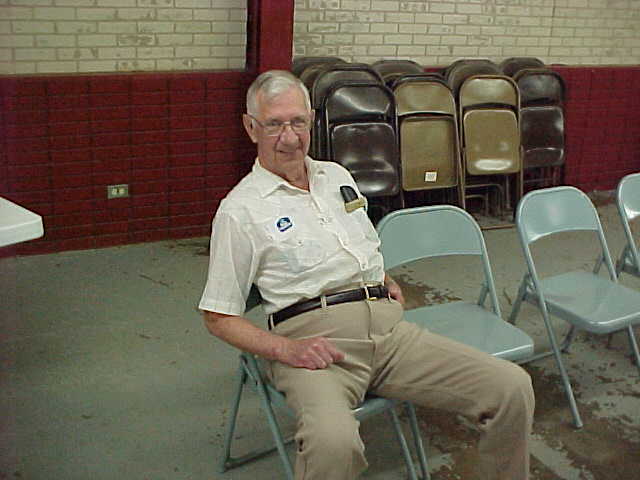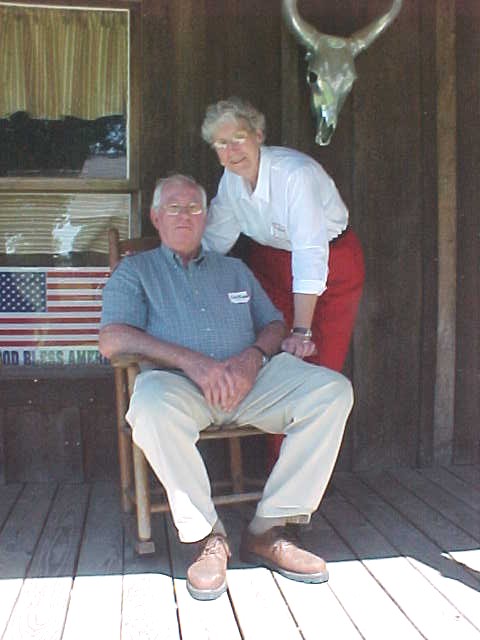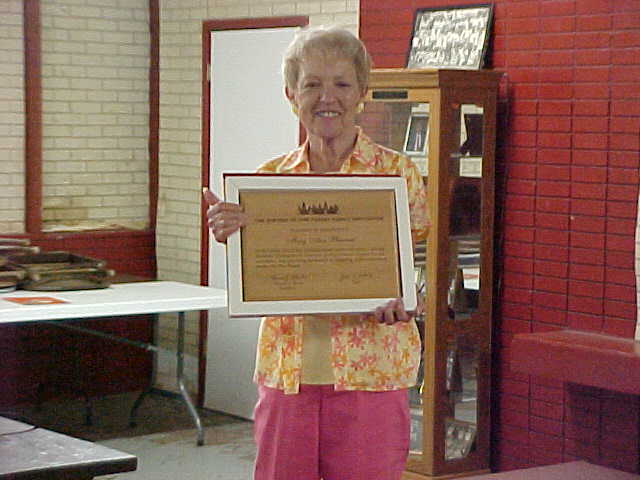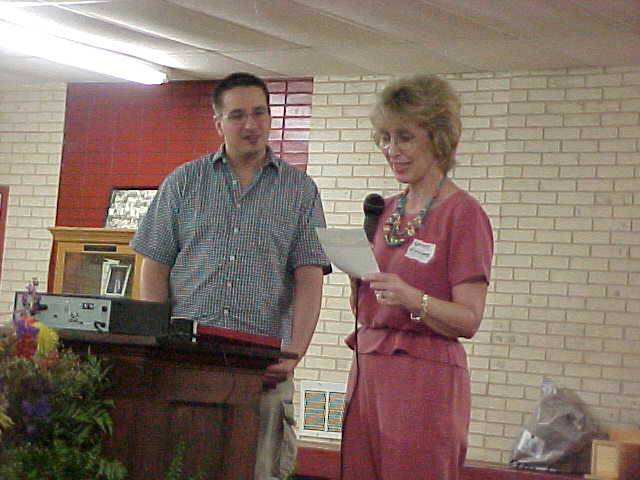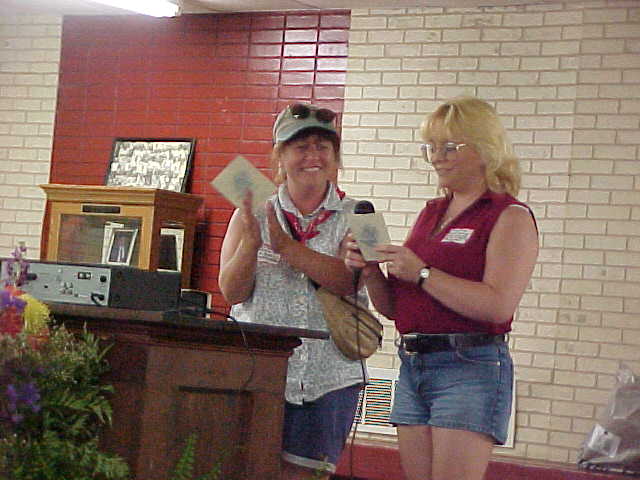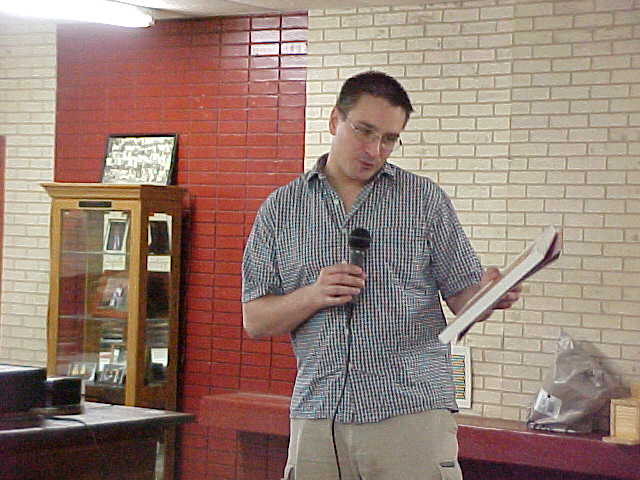 1.Richard Weathersby 2. Elizabeth Weathersby 3.Josephine Gray 4. Jorene Orr 5.Marcus Weathersby 6. ? 7. ? 8. Linda Montgomery 9. ? 10. ? 11. Terrell Stewart 12. Doris Stewart 13. Charles Gray 14. ? 15.Rosemary Gilbert 16.Caroline McClelland 17. ? 18. Sherry Ables 19. Bob Minter 20. Sam Minter 21. Margaret Minter 22. Dee Lou Massey 23.Faye Minter 24. Sally Hanna 25. Thomas Minter 26. ? 27. Price Minter 28. ? 29. ? 30. Mary Ann Pleasant 31. ? 32. Barbara Shields 33. Kathy Williams 34. Lynn Thomas 35. ?

Thomas and Faye Minter on the porch of Judge Roy Bean's saloon/court. After eating all day, a chair will do for Tom now

Visiting Judge Roy Bean's saloon/court at Joe Bob Minter's place

Kathy Williams chatting with Faye Minter

Mark Morrow reading the inscription on a plaque recognizing Jack Robinson's work on behalf of the family

Sam Minter, who did some video taping, is working on something

Kathy Williams, with Mark Morrow at her side, reading the presentation of a plaque to Mary Ann Pleasant for the many things she has done for the family

Mary Ann (Minter) Pleasant showing the plaque she received

Bob Minter with his wife, Margaret

Billie Grace (Minter) Reynolds (seated) with sister, Rosemary (Minter) Gilbert (wearing glasses), and Rosemary's daughter, Sherry Ables. Billie and Rosemary are daughters of Carter Ramey Minter, Sr.

Terrell Stewart, husband of Doris (Minter) Stewart, relaxing and watching the world go by

Two sisters, Elizabeth Weathersby and Caroline McClelland, singing some little ditties for the attendees. Next stop . . .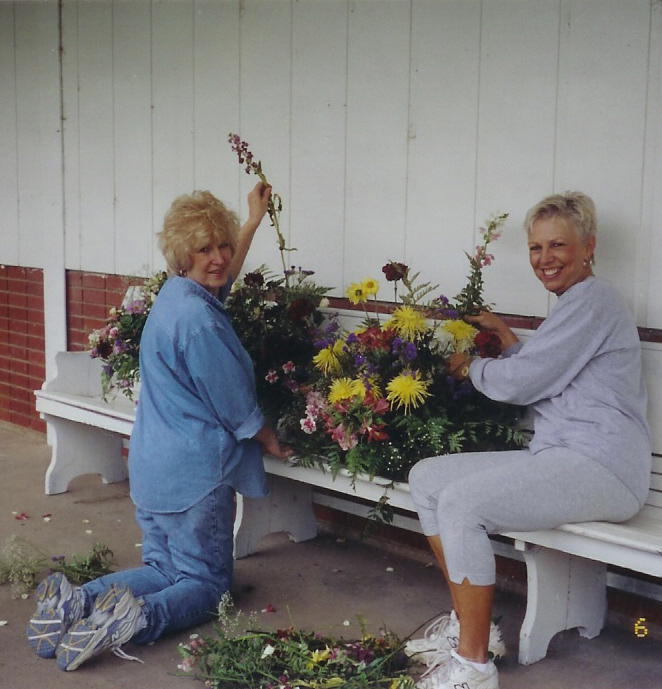 Kay Minter and Polly Swatzell recycling flowers from the Como-Pickton High school graduation for the Minter Reunion. Kay, who is the wife of Price Minter, teaches 12th grade English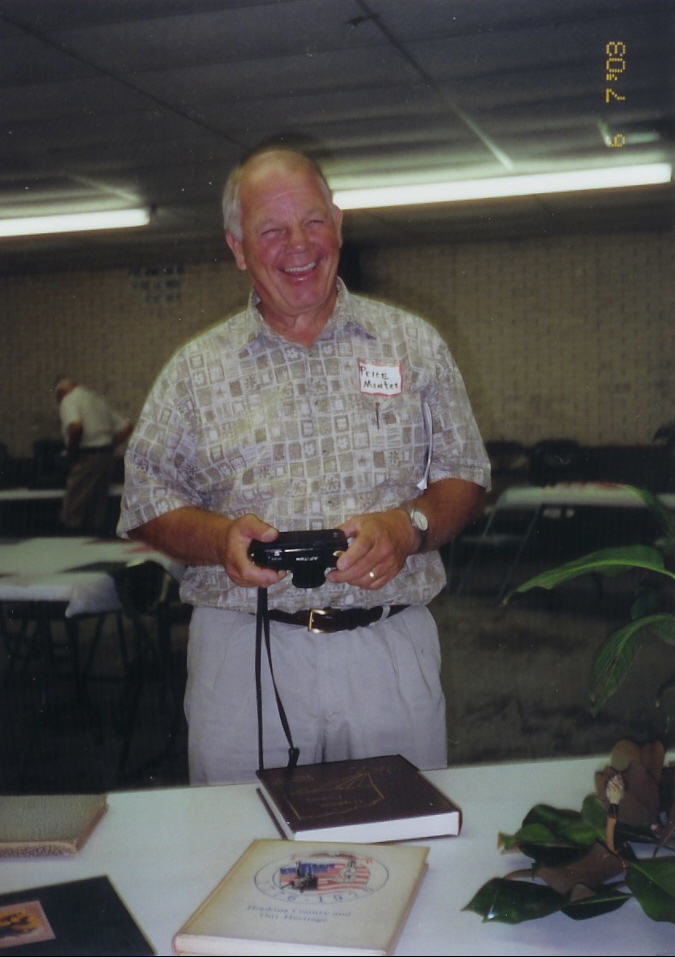 As always the Community Center in Pickton where the reunion was held was spic 'n span and well decorated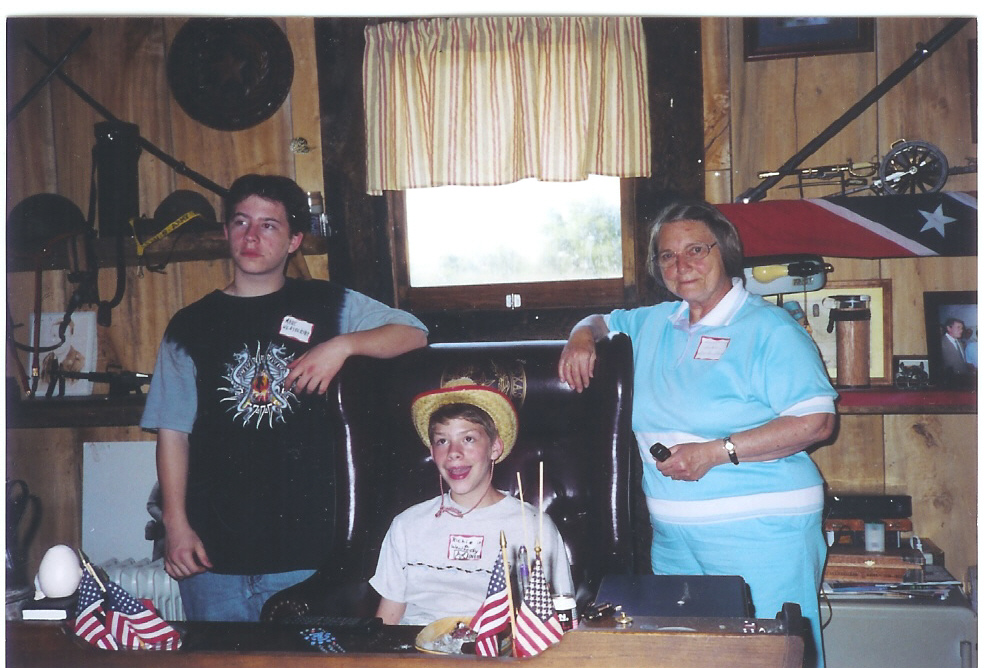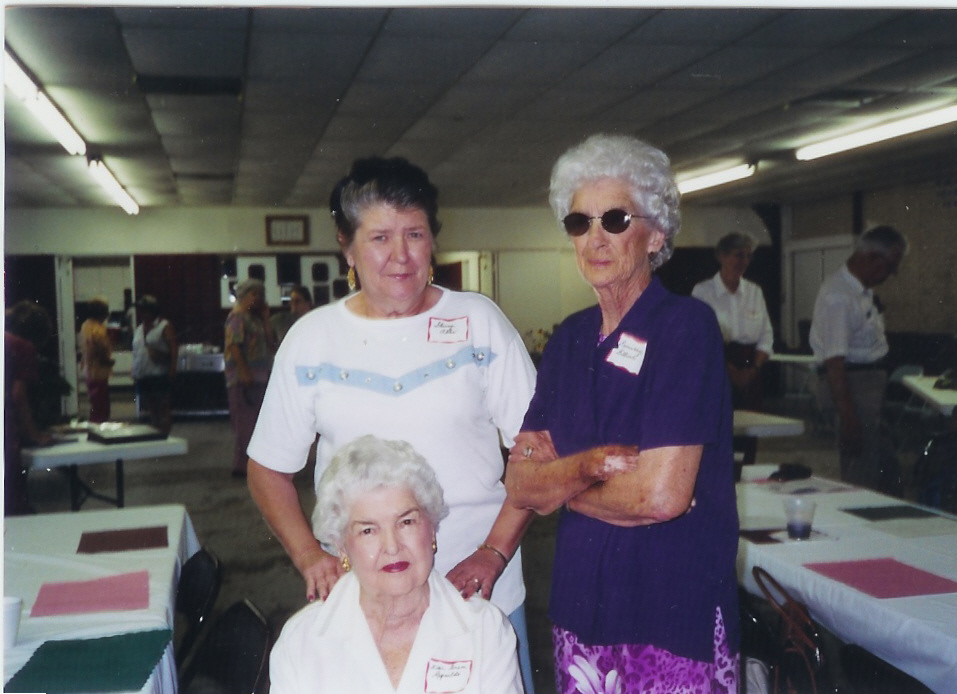 Marcus Weathersby, Richard Weathersby (sitting), and their grandmother, Gloria (Minter) Sandell. Richard is occupying Judge Bean's desk in the saloon.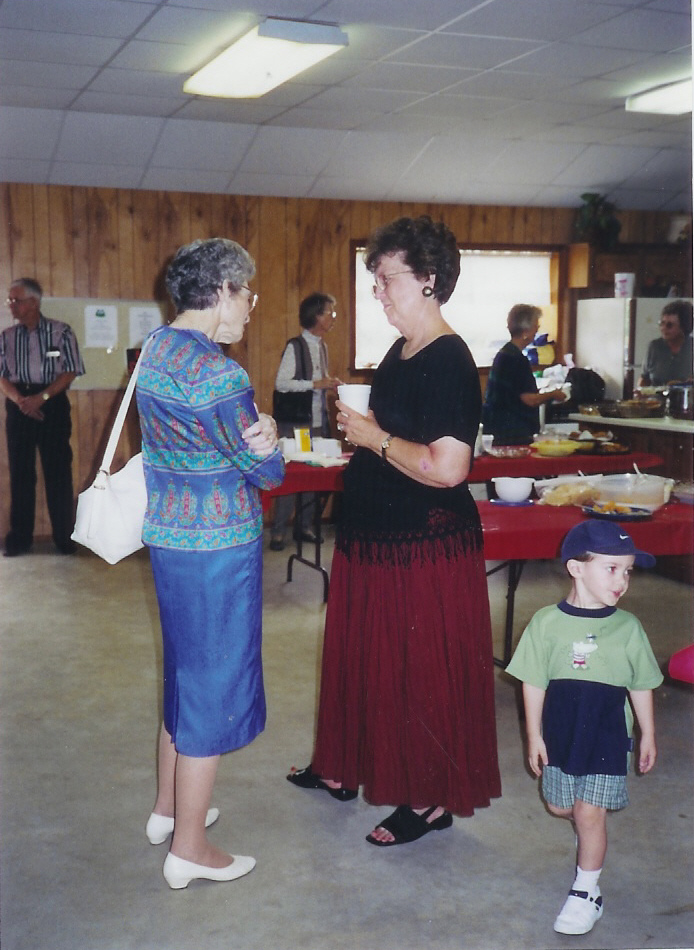 Doris (Minter) Stewart (left) talking to Lavyn Sisco, who is a teacher in Sulphur Springs. Lavyn was instrumental in obtaining a Confederate marker for a Culpepper ancestor who is buried in Pine Forest Cemetery. This picture was taken at the potluck luncheon at the Pine Forest Community Center on Sunday after the Memorial at the church. The little boy is Conner Highfield, great great grandson of Emmett and Ruby Odell (Bryarly) Minter

Price Minter, who was the master of ceremonies, getting a chuckle out of something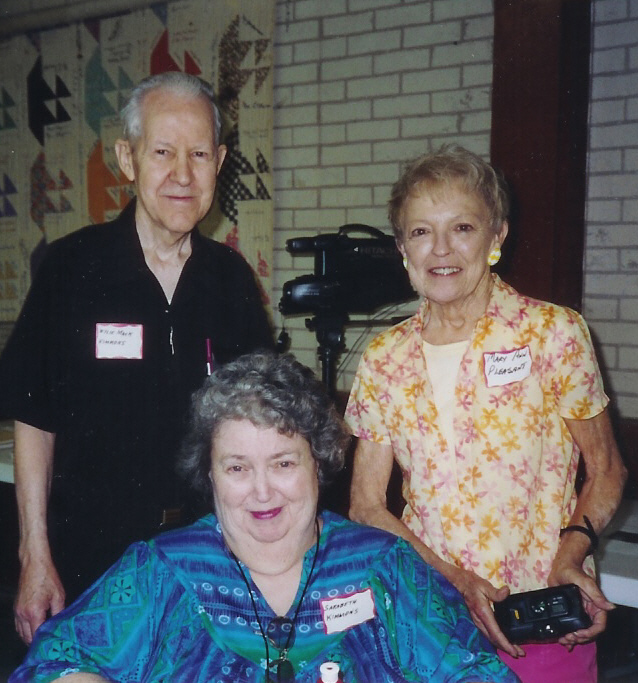 Lynn Thomas, Sally Hanna, Kathy Williams, and Lucy Massey. Sally and Kathy are sisters and are the granddaughters of Sylvanus Oliver Minter. Lynn is Sally and Kathy's first cousin and daughter of Dr. Harold Thomas. Lucy is a descendant of Annie Monk (Minter) Thurman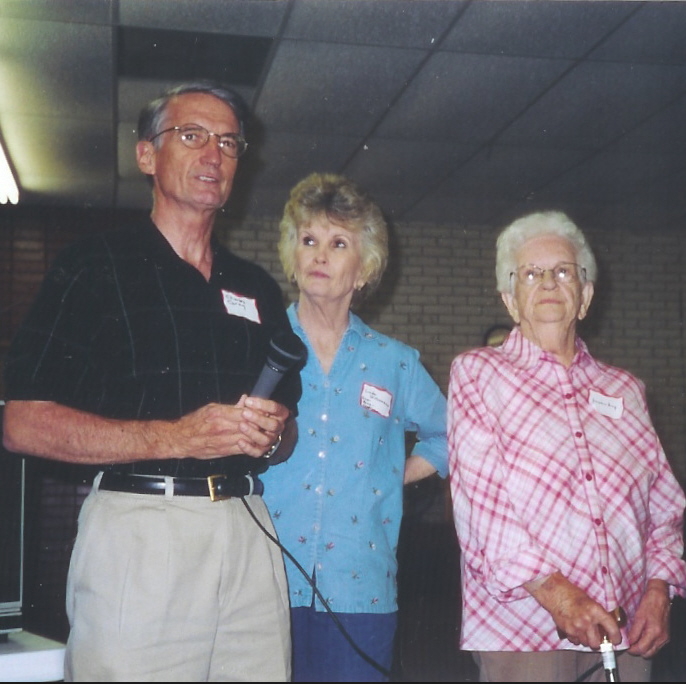 Wylie Mack Kimmons and his wife, Sarabeth sitting. Mary Ann (Minter) Pleasant at right. Wylie is a grandson of Wylie F. Minter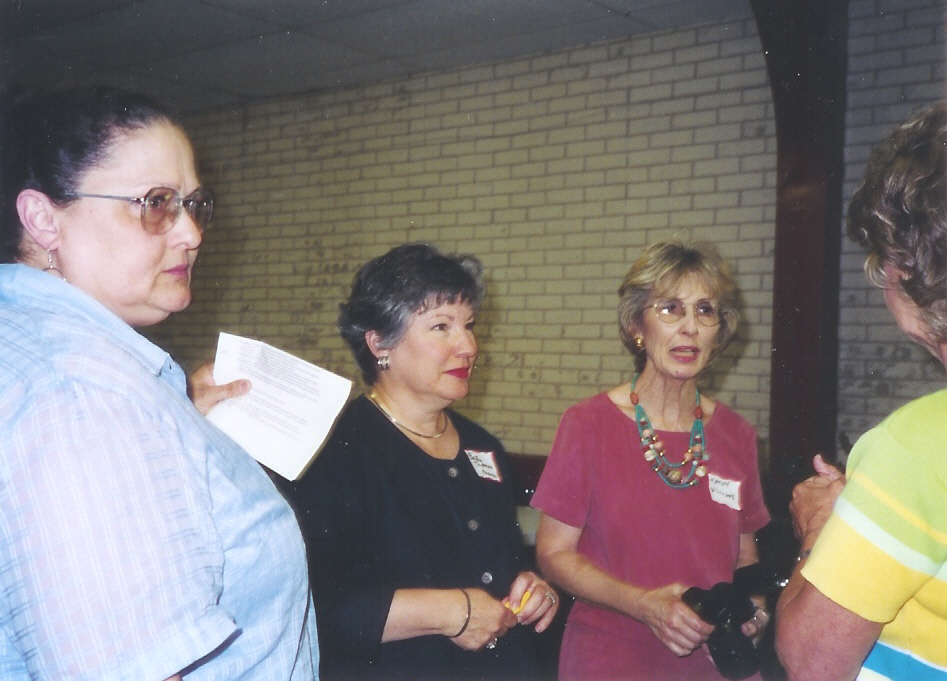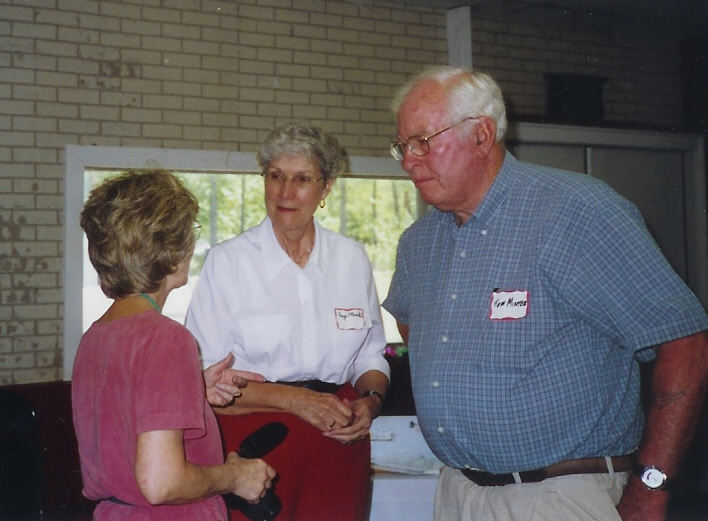 Charles Gray is holding forth. In the middle is his sister, Linda Montgomery. To the right is their mother, Josephine Gray. Charles is the great grandson of Gus Minter

Kathy Williams, Faye Minter, and Tom Minter